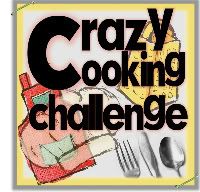 This month's challenge was grilled cheese sandwiches, and at first I was a bit disappointed. "How exciting could
that
be?" I thought - and then I found this recipe over at
Closet Cooking
.
At first glance, the ingredients sounded different, unusual. But then I remembered an appetizer that my husband and I once shared at The Melting Pot. They brought us a fondue made of Wisconsin cheddar with Granny Smith dippers, and unique though it was, the taste was not easily forgotten.
Since this recipe had those same basic ingredients, we tried it, and we were not disappointed.
Even the kids, who turned up their noses initially, were hooked after the first bite. They've even asked me to make that "appley sandwich" several times in the weeks since!
I liked this sandwich - a
lot
. I used mild cheddar the first time, and I think I'm going to try adding sharp cheddar the next - and perhaps crumbled bacon. While this sandwich pleased the entire family, I think the adults would find a kicked-up version even more exciting!
So to make your own sweet, gooey, decadent Caramelized Apple Pie Grilled Cheese Sandwich, this is what you'll need.
Ingredients:
4 slices of good wheat bread
8 slices of real cheddar cheese
1 Granny Smith or Gala apple, peeled and diced
1 T. butter
1 T. brown sugar
dash of cinnamon
melted butter
You'll have these sandwiches pulled together in minutes:
Saute the apple in the butter, brown sugar, and cinnamon over medium-low heat until cooked through and caramelized.
Brush the melted butter on the outside of the bread.
Assemble the sandwiches: bread, cheese, apple filling, cheese, bread.
Toast the sandwiches in a non-stick pan over medium-low heat until the bread is golden brown and the cheese is beginning to melt.
Flip and repeat.
Thanks,
Kevin
, for a fabulous sandwich!
What's your favorite grilled cheese ingredient?