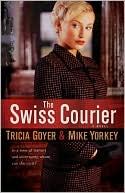 You may remember that I recently reviewed
Chasing Mona Lisa
, the new novel by Mike Yorkey and Tricia Goyer about the planned theft of this famous painting by the Nazis.
Chasing Mona Lisa
is actually the sequel to
The Swiss Courier
, where you first meet Gabi.
I haven't been able to read
The Swiss Courier
yet, but
I've already downloaded my free copy from Barnes and Noble
. The second book was full of intrigue and yet so informative about the time period that it totally draws the reader into the story. I can't wait to read about how Gabi's life as a spy began.
If you'd like to check out Gabi's story, be sure to
download your free copy here
before the price changes.