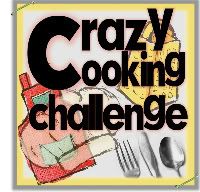 So this month's Crazy Cooking Challenge is all about smoothies - and I found the perfect one! This Sweet Watermelon-Strawberry Smoothie from
One Frugal Foodie
is healthy
and
delicious. It tastes of summer - sweet, simple, wholesome, and it comes together very quickly.
My husband is the smoothie maker in our house, mostly because he's good at fixing my flubs. This time I froze the watermelon as well as the strawberries, and that left the smoothie without enough juice to work in the Ninja. My husband added watermelon and got the mixture all going again - and I'm glad he did! This made a very refreshing evening snack.
So to make your own Sweet Strawberry-Watermelon Smoothie, here's what you need:
1 c. frozen strawberry halves
2 c. watermelon chunks, not frozen
a few teaspoons of lime juice - adjust according to your love of lime
1 packet of Truvia
To make your smoothie, just:
Start with the watermelon chunks. Blend them until smooth.
Add the rest of the ingredients and process until smooth.
Pour into your favorite fun glass.
Enjoy!
Thanks, One Frugal Foodie, for a fabulous smoothie!