I love to read, and my very favorite books have always been mysteries.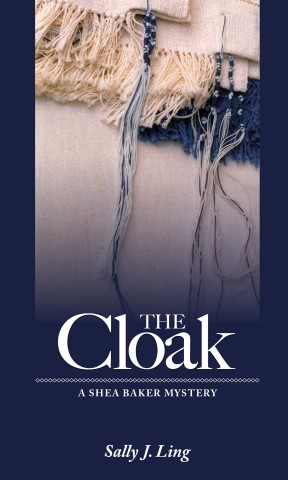 Which means that getting an email from an author automatically makes me do a happy dance. Getting emails offering books is even better. Especially when they're mystery books. :-)
Sally J. Ling, a Floridian writer of history's mysteries, has penned a new what-if style story about the cloak of Jesus. She asks what might happen if His cloak still has the power to heal - and did so today.
Writer Shea Baker stumbles upon an old tassel while attending an art gallery exhibit and soon is caught up in a mystery spanning thousands of years and multiple continents. Can he find the truth about these ancient threads before someone gets hurt?
What if the healing cloak of Jesus were to emerge from its century's old hiding place and made available to heal the world? Would it be a blessing as some feel, or a curse that could throw the world into political, theological, economic, and logistical chaos?
I love fictional debates about Biblical artifacts. It's Indiana Jones at its most adventuresome - pure adventure, great debate, unsolved mystery, and fun speculation. This particular story took me a few chapters to get hooked, but for a very zany and personal reason: the main character's name sounds feminine to me, and it took me that long to get it through my head that he was a middle-aged male. Once that happened, I was caught up in the story.
Ling used Baker's lack of Biblical knowledge to explain the history of Jerusalem, a popular Bible story, and information about other famous artifacts. In this way the reader gains real knowledge in an unassuming way. The set-up to the story also appealed to me, Baker's first name aside - the cast of characters initially made up a wide pool which narrowed as connections were made and the story progressed. This kept the energy high and the suspense growing.
Ling's writing style and premise puts me in mind of Harry Kraus' The Stain. With a plausible backstory for the cloak's resurfacing and entertaining characters, this is a great read - but it's only the beginning. With several parts of the plot left open-ended and a new mystery turning up on Baker's desk, I can't wait to read the next Shea Baker mystery.
Author Sally J. Ling doesn't only write Biblical mysteries, however; as a former reporter, much like Baker, she's written Floridian history books and many articles. She's also a generous author - today she's giving away digital copies of her book Spies, Root Beer, & Alligators, a book for nine- to twelve-year-olds, to the first ten people who sign up for her newsletter. Click here to go to sign up for her Preferred Readers newsletter and you'll receive directions for how to get your free e-book.

What's your favorite book genre? Do you and your kids like to read the same ones??
Last week Chris at Campfires & Cleats
shared reminded us of how important the leadership role of our husbands are - and how wonderful they are when they lead us! It's too easy to overlook their contributions to our families, especially in the midst of dirty laundry mountains and a culture that often mocks our men. To find out more,
visit
Campfires & Cleats
- and Chris, please visit our Inspired Wednesday page and take the "I was featured on Washed Up Inspired Wednesdays' button back with you.