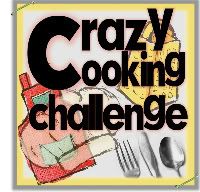 This month's challenge is chicken noodle soup! I wanted to find something a bit different, and this chicken tortellini soup qualifies. It has a light and delicate flavor but is hearty and filling at the same time. I found this recipe over at
The Happy Housewife.
Thanks, Happy Housewife!
I wasn't sure what the kids would think about this soup that appears so different from the other soups that I make, but both loved it. My Little Man happily exclaimed that he liked this fun dinner.
So here's how to make this super-fast, very healthy soup.
As usual, I couldn't leave the recipe well enough alone. My changes will be in italics nearby.
You'll need:
2 c. shredded chicken
1 bag frozen cheese tortellini
I used ravioli - worked just the same.
3 c. chicken broth
3 c. water
salt
I skipped this.
pepper
adobo seasoning
I skipped this, too.
diced onion
I skipped this but added a dash of garlic powder instead.
Italian seasoning
1 can of Rotel
You got it! I skipped this, too.
I added 1/2 c. grated Parmesan and 2 big handfuls of fresh spinach, washed, de-stemmed, and chopped.
In a large pot, combine the chicken, broth, water, and tortellini.
Add the seasonings (and other extras) and cook over medium heat.
Stir occasionally. When broth bubbles, set timer for 7 minutes.
Serve and enjoy!
So, voila! Dinner is served, and in only 10 minutes. Yum!
What's your favorite kind of soup?
(I'm also linking this up to the Pinterest Challenge - because I've had this pinned for weeks!)