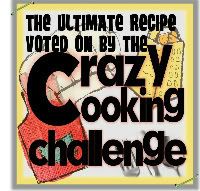 I have fun competing in the Crazy Cooking Challenge each month. It began 8 months ago as a way to meet other bloggers and find great recipes for a common recipe, and it has definitely lived up to those expectations for me.
I never expected to win, however; and yet we have consistently done pretty well in one way or another each month. For several months, we've had the most traffic.
This month, we placed SECOND in the whole competition - out of nearly 100 bloggy recipes!
(And we were behind first place by only three votes.)
This is very exciting to me. I love cooking and sharing new recipes, and knowing that others are interested in those recipes makes the process even more fun. Thanks for reading about my nest and for checking out my recipes.
Next month's challenge will feature a grilled cheese sandwich - made on any bread, with any cheese, with any extra ingredients. If you have a blog and want to share your recipe, please send me a link - I'd love to check it out and consider your recipe for next month's challenge!
If you missed the Better-than-the-Bakery Blueberry Streusel Muffins,
you can check them out here
. I can't wait to make them again - they're yummy!