**** Becky H, you're our winner! Please check your inbox for an email about how to receive your book. Congrats!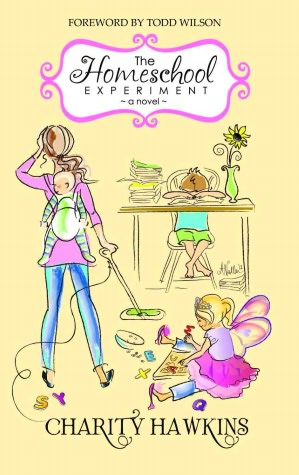 Julianne Miller and her husband John have agreed that homeschooling is the best way to educate their three little ones, and having survived the first year of kindergarten with a newborn, Julianne is ready to tackle Year Two: with one active son in first grade, a precocious four-year-old fashionista ready to learn, and toddler Michael, who just wants attention. Between meltdowns and blow-ups, projects and housework and doubting relatives, is homeschooling really a viable option for this family?
I LOVED this book.
If you've ever homeschooled (I've only homeschooled for preschool thus far), thought about homeschooling, wondered what it might be like, then you MUST read this book. Not only does Charity write about homeschooling adventures in a completely realistic (I'm assuming much of this was real) fashion, but she does so with humor and Biblical wisdom thrown in.
It's rare that I want to take notes when reading fiction, but this book made me want to pull out my highlighter. Charity ponders the homeschool vs. public school vs. private school debate openly, honestly, and logically, giving fantastic advice to others who might be struggling with this decision. The mentors from whom Julianne seeks advice do the same: they are able to help Julianne find strategies and resources to solve the problems that she's having, providing valuable insights to any of us reading the book.
In the back Charity includes a study guide for homeschool groups, making this a fantastic possibility for your next book club meeting or Mom's Night Out get together. My favorite part of this was that along with questions, she includes resources relating to issues in the book, so if something resonates with you, you are then able to seek out more information on that topic easily.
Charity shares about how the decision to homeschool is about more than academia:
If I teach my children nothing else, I want to teach them to recognize true treasures – not jewels or palatial mansions, but this amazing world God created, the precious people around us, and His eternal Truth. For where my children's treasures are, there their hearts will be also.
Though this computer addict hates to admit it, technology now plays a major role in most people's lives – and that's drastically changed the way that families relate to each other and to the outside world. After being around others who are more "connected" than her little family is, Julianne decides that:
I want to raise children who know how to be still, how to sit, how to think. I want my children to have hearts for people, not things, and to live to serve, not to be entertained. And, ultimately, I want them to learn to listen: to family and friends, to their own hearts, and to that Voice that doesn't beep and flash, that doesn't always thunder in a whirlwind or burn with fire, but that comes in a gentle Whisper. (p. 116)
Of course, along with being a voice of wisdom and experience, this book is flat out funny. From fire trucks and hotel visits to who-can-amass-the-most-McD's visits per month, Julianne's story will definitely tickle your funny bone.
And who doesn't need some more of that?
New author Charity Hawkins generously provided a second copy of this book for me to give away – for which I'm very happy, as I'm not ready to release my hold on my copy just yet. If you want to win your own copy, signed by Charity Hawkins herself, do any or all of the following by on April 24th (leave a separate comment for each):
Leave a comment on this post sharing whether you homeschool or not.
Follow this blog in any form (GFC, Networked Blogs, etc.) and leave a comment for each.
Share about this giveaway via your favorite social media. Leave a comment for each.
Please be sure leave a contact method. Winner will be responsible for replying within 48 hours of contest ending or a new winner will be chosen.
I received a free copy of "The Homeschool Experiment" from Charity Hawkins in exchange for an honest review.