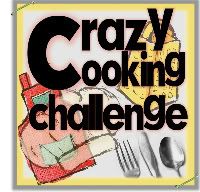 "These muffins are better than those you'd buy at a fancy bakery."
That's what a friend told me after I asked if she'd like to try one of the muffins I made for this month's blueberry muffin cooking challenge. I decided to do something a little different and asked a few people to try them and give me their opinions. The general consensus: if you like real blueberries, these muffins are for you.
I found this recipe over at
A Cook's Quest
. I'll definitely be checkout out her other recipes.
So if you want a bakery-made blueberry muffin with a great texture without the high price. head for your kitchen and make a batch of these.
To make your own better-than-the-bakery muffins at home, you'll need:
Muffin batter:
2 cups fresh blueberries
1 c. + 1 t. sugar
1 T. water
2 1/2 c. white-wheat flour
2 1/2 t. baking powder
1 t. salt
2 eggs
5 T butter
1 c. buttermilk
2 t. vanilla
Streusel:
3 T. sugar
3 T. brown sugar
1/3 c. flour
5 T. melted butter
To make these muffins most efficiently, be sure to follow these steps in order!
In a small saucepan, bring 1 c. berries, 1 t. sugar, and water to a simmer. Cook and mash with a potato masher until reduced by half. Cool while you mix batter.
Melt butter for batter and allow to cool a bit.
Stir together flour, baking powder, and salt in large bowl.
Stir together eggs and sugar in a medium bowl. Slowly stir in butter.
To the wet ingredients, add buttermilk and vanilla.
Fold wet ingredients and blueberries into dry ingredients.
Place a heaping spoonful of batter into prepared muffin tins (I used paper liners). Batter should completely fill muffin cups.
Place a small spoonful of cooked blueberries into the center of the batter in each cup and swirl slightly.
Preheat oven to 350.
To make streusel topping, mix all ingredients together. (I needed to add extra flour and brown sugar to get a good crumbly consistency.)
Sprinkle streusel over the top of each muffin.
Bake for 15 - 20 minutes or until firm.
Serve warm. Enjoy!
Thanks for the fabulous muffins, A Cook's Quest!