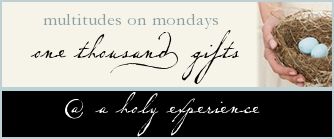 What a week! With gorgeous weather, we spent so much time outside playing with friends that I forgot to get pictures. Likely, I would've ended up with lots of them showing smiling, filthy children. :-)
In any case, some of the blessings we recorded are:
- fun school time
- a beautiful day for
a tour of a beautiful church
- blooming flowers, signs of God's creation all around us
- best friends, snuggling and reading together
There's also been:
- a spontaneous date night
- a new local restaurant that has fun menu options
- the finding of something lost
- a warm coat and gloves on a cold night
- the hope of morning snow
- warm sunshine
- new friends
- playdates with good friends
- children's laughter filling the yard
- a kitten that puts up with rambunctious kids trying to carry her around
- a wonderfully tasty meal at church
What blessings have you found this week?