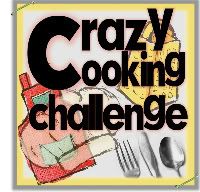 This month's challenge was an especially yummy one: cheesecake.
As I searched for recipes, I wanted something that would be:
less difficult and stressful than the traditional water-bath cheescakes.
would bake in as little time as possible (the oven heats up this already-hot house!)
would be a hit with my cheesecake-diverse family.
With layers of peanut butter cups inside the cheesecake and drizzles of peanut butter and chocolate ganache on top, it had the richness of all three flavors, but none overpowered the others. The simple creaminess of the cheesecake shone through, the nuttiness of the peanut butter was clearly evident, and the sweet chocolate crust and ganache on top balanced out all that richness.
This cheesecake is super easy to mix and assemble, and baking is a snap: just plop it in the oven and bake for 30 minutes, then turn off the oven for another 15 before removing to cool.
Don't take my word for it, though; this is one recipe you'll definitely want to try out for yourself.
So here's how to make your own Peanut Butter Cup Cheesecake:
Ingredients:
3 T. melted butter
1 1/4 c. crushed chocolate sandwich cookies
3 8-oz. packages of cream cheese, softened
3 eggs
3/4 c. white sugar
2 t. vanilla
4 large peanut butter eggs
1/8 c. cream
1/8 c. + 1 T. chocolate chips
3 T. peanut butter, melted
Directions:
Preheat the oven to 350 degrees.
Remove the icing from the sandwich cookies and crush the cooky itself.
Mix the crumbs with the melted butter.
Press into a 9" springform pan.
Slice the peanut butter eggs (or cups) and cover the crust with the sliced candy.
In a large bowl, cream the cream cheese and sugar.
Add the eggs and vanilla, mixing well.
Pour the cream cheese mixture over the candy slices.
Bake for approximately 30 - 40 minutes, then turn off oven and allow to continue baking for another 15 minutes. (I baked mine for 45 and it was a bit too long. I'd start with 30 minutes and check to see if the center has gotten firm. If it has, go ahead and turn off the oven.)
Remove from oven and cool.
Decorate the top! Heat the cream until just beginning to bubble on the stovetop, then immediately pour into a small heat-proof bowl over the chocolate. Whisk rapidly until all is melted and blended, then allow to cool for at least 15 minutes.
Put the melted peanut butter into a bag, snip off the corner, and drizzle on top of the cheesecake.
Drizzle the ganache in opposite lines from the chocolate.
Chill until serving.
Yield: I have no idea. Since everybody wanted multiple pieces each time I got it out of the fridge, it didn't survive long at this house. :-)
Thanks, Kristin, for sharing your wonderful cheesecake recipes! We're already thinking up a new 'event' so we can make another one. ;-)